...now if you'll just move your foot like
this
, I'll pull
that
over your arm while I twist
this
, and... watch that zipper! Wait, let me try from behind...
That was me deciding to topstitch all the seams open a bit late into construction.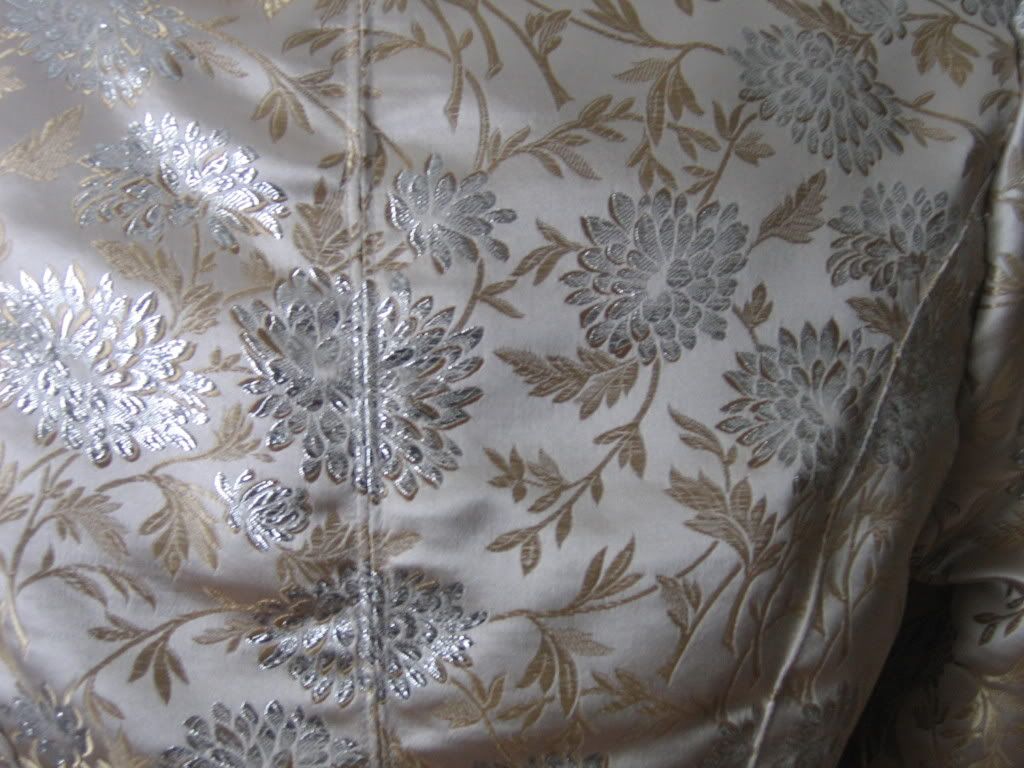 Notice that the Duct Tape Dressform has now officially been christened "Lizzie"? I found myself inexplicably offended the other day when my husband kept referring to it as "the dummy".
I would have a picture of stockings to show you, as well as a link to my review of them on PR, but sleep finally overtook me last night (in mid sentence, from what my husband tells me). So here are almost stockings :)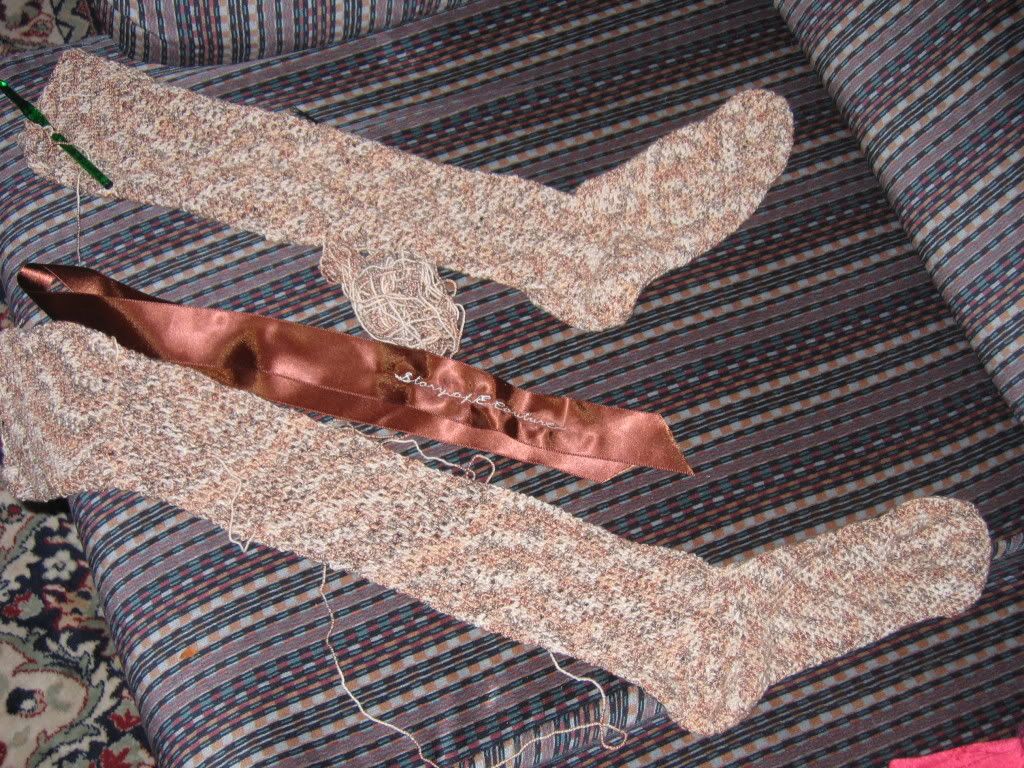 And I'm
it
! Or, at least, I've been tagged! :)
It was with grace and beauty that I was tagged by
Glass of Fashion
, whose blog I've had a crush on since she posted the
review
of her wedding gown.
As I understand it, these are the rules:
-Link to the person who tagged you.
-Post the rules (and prize logo) on your blog.
-Write 6 random things about yourself, 6 important values and 6 negative points you condemn.
-Tag 6-10 people at the end of your post.
-Let each person know that they have been tagged by leaving a comment on their blog.
-Let the tagger know your entry is up.
And as I also understand it, this is an organic thang and mutates greatly with each person it passes through. I love evolution. So rather than 6 random things, important values and negative points
don't we all say we have the same values? It's how we put them into practice that mixes up the world
I'm listing 7 ('cause it's a magic number) random things, 7 awesome books and 7 albums (did I just date myself?
albums
?).
7 Randoms of E:
- I have, throughout my life, been
scared to death
highly skeptical of garden gnomes. I'm convinced they house evil spirits. Imagine my discomfort at discovering Stephen King shares my intuition on this. My brother once left one in my car as a joke. It was not a pretty scene.
- I think I secretly have a desire to be a singer.
There, Jas, I said it out loud.
Not a performer, but a singer. a la Sound of Music. Like, sit on a park bench next to a guitarist and just sing. The problem is that any desires to showcase myself were teased into oblivion long ago, and I tend to have an aversion to that which could be construed as "showing off". I'd like to learn how to sing in front of people and still have it be for myself. (Any thoughts on this, Damo?) My husband is in a band and I've been dropping HINTS that we could do the cafe set around our town. Perhaps someday, your stop in M'town will include a set of Jne (that's J and just a little e).
- A few years back I left my comfy state job with benefits and decided to go back to school for physics and astronomy. I worked p/t at the local 55 year-old bakery. I got rid of cable, credit cards, cell phones, keeping up with joneses, the works. I created a simple life that I absolutely love. I had to put school on hold for baby and husband's epiphany ("I want to be a karate instuctor"- both he and my 11 yo daughter are now black belts), but I got my eye on a telescope the other night, and I felt something long slumbering stir within. It's about that time. Donations to the "Send E back to college fund" are now being accepted.
-I have a stupid human trick. I can make my tongue clap.
I'm not going to take it to Letterman anytime soon, but it's cool at parties.
- I started
PatternTrade
, a Yahoo group dedicated to free trading of sewing patterns and stuff. Spread the Love.
- An article of clothing has to be extremely special if I am to buy it brand new. Yes, undergarments are extremely special, and so are the absolute perfect pair of high-rise, booty lovin' jeans that I found on clearance and bought 2 pairs of. But 95% of my clothes are thrift shop finds. I rarely sew everyday clothes because I have so much fun at thrift shops.
- I LOVE Star Trek. Yes, all of them. Even Enterprise. If there is an odd, out of the blue comment on my blog that you don't quite get, it's probably an obscure Star Trek reference (tribbles, anyone?).
7 Reads of E:
- The Hidden Life of Dogs
- The Lord of the Rings
- Harry Potter series
- Ishmael
- Siddhartha
- If the Buddha Dated
- Contact
7 Albums of E:
- Grace, Jeff Buckley
-
any Radiohead
(
ok I changed my mind- Radiohead has transcended mere music.)
- The Visit, Loreena McKennitt
- Happenstance, Rachel Yamagata
- O, Damien Rice
- Little Earthquakes, Tori Amos
- The Low End Theory, A Tribe Called Quest
- Till the Sun Turns Black, Ray LaMontagne
I'm tagging 3 blogs (also a magic number):
Allison C
,
Isabelle
, and my mentor and guide in this sewing fantasy,
Karen
.
OK, I've got to get back to the sewing or I'll be wearing my go-to RTW LBD to my cousin's wedding this weekend instead of the jumpsuit I'm slaving over. But before I leave, you'll be happy to know I've stopped trying to sew vicariously through my daughter, who has, despite my
subtle
hints, never shown an interest in the home arts. I have now started living vicariously through my
friend's
daughter (she's 8), because she wants to learn to sew. I'm showing her how to thread the machine tomorrow :) Spread the Love :)