The GalaxE Dress
aka
Vogue 8280
. I had the fabric cut by Sunday night and wore it to Thanksgiving dinner :)
I have to say that Vogue left much to be desired with these instructions... check out number 7 here- they didn't even finish their sentence.
The lace was scalloped on both edges and had beautiful body- not stiff at all. Just a bit of stretch.
It was a Jomar $1/yard special. The underlining is a cotton linenish blend with a beautiful sheen on the finished side. It was on the "designer" table at Jomar, a 4 yard remnant for $2/yd. I'm so glad I thought to use it under something, because it wrinkles like a bee otch. I cut my own belt and recycled a used buckle I had on hand.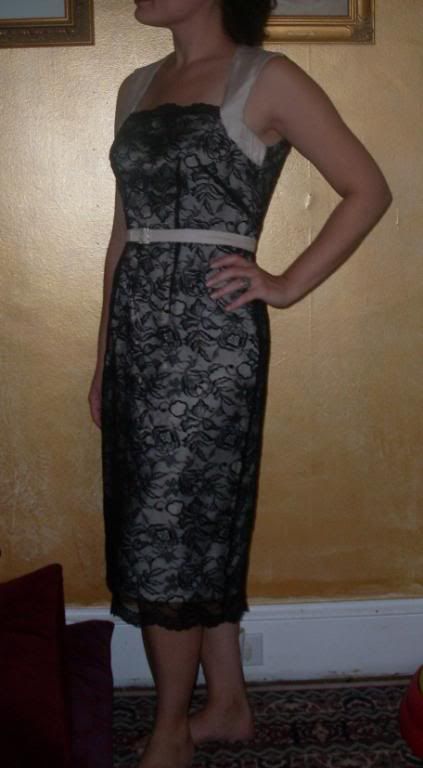 It's everything I dreamed it would be :)
************ ***********
Ah, family holidays... loving reminders of why we are the way we are. Take this for example :
me on my grandmother's sofa, circa 1977
That beautiful blend of bodacious prints was the calling card of my grandmother's style, and heavily influenced my sense of fashion. Oh, I know what you're thinking. You have no idea.
Happy Thanksgiving to you and yours :)
lovE